Hiring subcontractors can be an arduous task if you don't have the right systems and processes in place to streamline the workload. Often, the devil is in the detail and a drawn-out onboarding will leave the contractor frustrated and affect the performance of the job getting done.
The beauty of a well-designed onboarding process is that it is repeatable and consistent for you and your subcontractors. The challenge to creating a great onboarding process is that there are no hard and fast rules and no limits on what you can include in the method. However, there are some very specific best practices that will help to guide you to build a process that delivers the best results.
Tip 1 – Know what documents you need
Get crystal clear on the documentation you need from all your subcontractors at each stage of the project. Demanding unnecessary info and documents will very quickly frustrate both your admin teams and your contractors. Some documents are essential before work can commence while others are just a nice to have. Understanding what you need and when you need it will make for a smooth flow of work by eliminating obstacles and roadblocks. You can read more about what specific documents you need to look at here: 'Subcontractor onboarding that actually saves you time and money'.
While you're compiling your list of essential documents, be sure to include the reasoning behind why you need it. Typically, this will be for compliance reasons but also extends to protecting the safety and welfare of everyone involved in the job, improving communication, preventing mistakes and so on.
Tip 2 – Empower your admin with the right tools
If you want to make a big reduction in the time and effort it takes to onboard a subcontractor, then the most powerful tool you can use is technology. The effectiveness of online systems such as SubbieHub has grown exponentially over the last 2-3 years. Technology is getting better and better at handling even the most complex onboarding process and delivering it in a way that is easy, accessible, and convenient for both businesses and subcontractors. Here are three essentials for a good onboarding system:
Validation checkpoints: Documents need to be reviewed and validated to ensure they meet minimum standards. The best way to ensure those validations take place is to have a system that is monitoring and tracking each and every document at any given point in time.
Reminders: Subcontractors need to be reminded of the tasks they need to complete, and businesses need to be reminded of the tasks they need to complete. Auto-reminders are your best friend and will shave hours of time chasing up subcontractors and writing to-do lists on your own.
Audit trails: When there are multiple people handling different aspects of a subcontractors onboarding, it's essential to have oversight over who has done what, when and where. These types of audit trails give you powerful reporting capabilities to stay ahead of the game.
Set the rules: Both your admin and subcontractors need to know what is acceptable and not acceptable throughout the onboarding process. People will always try to push the boundaries and having a system with set rules will remove the guesswork and prevent unnecessary mistakes from happening.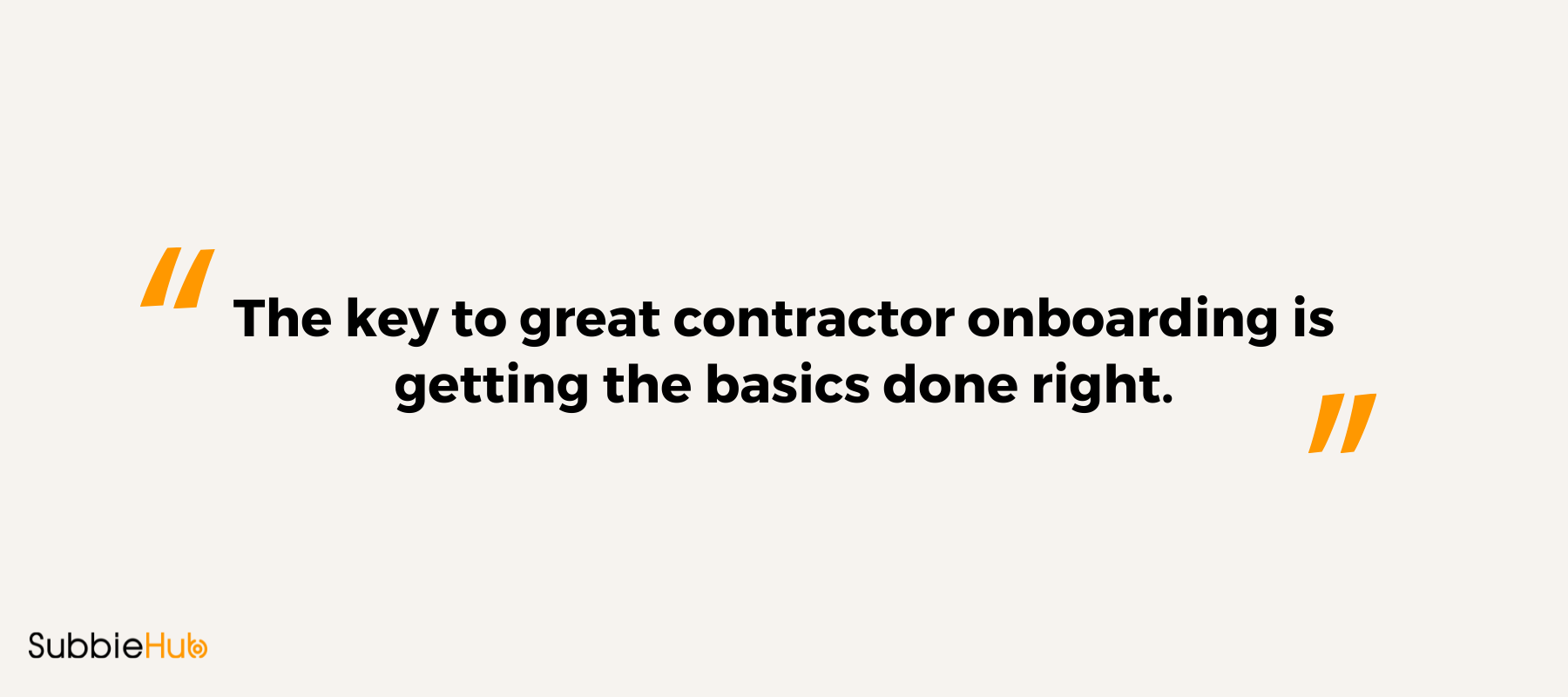 Tip 3 – Design your onboarding for the subcontractor
The onboarding process is one of the first and last experiences a contractor will have with your business and leaves them with a lasting impression.
One of the biggest mistakes businesses make in their onboarding process is not understanding who their subcontractors are. Typically, a subcontractor is going to be time-poor and see your 'onboarding process' as extra admin for them. If you have a good understanding of who your subcontractors are, you can tailor the wording, the delivery and implementation to suit the circumstances.
There are a few simple rules to follow to keep your contractors happy and on-side.
Keep it simple: An onboarding process doesn't need to be overly complicated. Make sure you are getting the right documents at the right time as efficiently as possible and you will be on the right track. Remember that not all documents are essential on day one. Knowing which documents you need and when will help you make the process less cumbersome.
Make it easy to access: In today's digital world if your onboarding process isn't accessible anywhere at any time of day you're going to get friction. Subcontractors are busy and will need to be able to access or engage with your onboarding process at a time and place that suits them or else you are creating an additional roadblock.
Stay consistent: Building your onboarding process in a way that takes advantage of online systems removes the human tendency to make changes on the fly. As a result your onboarding process will be far more consistent for all subcontractors you onboard and deliver you consistent results.
Onboarding subcontractors doesn't need to be an overly time-consuming and painful task if you can get the fundamentals right and systemise the process. Build your process using best practices and leverage technology to automate the time-consuming aspects of the process and you will make a dramatic impact on the time it takes and the results of your subcontractors.