In a subcontracting arrangement, there are a range of critical documents that need to be collected and verified for each and every engagement. Getting crystal clear on exactly what documents you need to collect and why is essential to making sure you actually get them.
Running an internal exercise in your business to identify all the critical documents that are relevant to you, your business and your jobs now and into the future will be worth its weight in gold. This forms the foundation of whether your onboarding process is going to be successful or not.
The exact documents, their structure and how detailed they need to be will vary from industry to industry and even from job to job. It's important to get professional advice if you are unsure of what your requirements are in any given scenario. That being said, here are some of the most common documents that need to be collected.
Subcontracting Documents
Subcontractor business and contact details
The stock standard basic information to collect from a subcontractor include their business name, ABN, address and phone number. It's also important to identify the primary contacts for the contractor for anyone who is going to be involved with your business. Also identifying the GST status of the subcontractor and doing a quick search on the ABN lookup to check it is valid and accurate can save some headaches later on. In some circumstances it can be worthwhile to store a copy of the contractors logo, business card and/or other advertising material for reference.
The contract spells out the terms and conditions of your arrangement with the subcontractor and is the most critical document of all. Failing to get a valid written contract signed and agreed to before work begins is opening your business to untold and unnecessary risks. It is also important to remember that a contract may also include several documents for larger projects and may be subject to change throughout the duration of a job when variations occur and are agreed by both parties.
A scope of works is a thorough and detailed description of the work that needs to be completed. The size, scope and detail of your scope will vary depending on the complexity of the work involved. Be sure to get the subcontractor to sign-off on the scope to show they have taken in all the information and addressed any concerns ahead of time.
Typical insurances include Public Liability, Workers Compensation, Professional Indemnity and/or Personal Accident & Sickness insurances. Insurance can extend to individual situations where specific insurances are required such as tools and equipment. When it comes to insurance, you need to get a copy of their 'certificate of currency' which details the insurance and triple check the contractor is covered for the level of insurance you require. Also important to note with insurance is that it can expire if the contractor misses payments, so you need to get updated copies regularly.
Qualifications, licenses and tickets
Ensuring that your subcontractor has the correct skills and qualifications is important for your peace of mind that they're capable but may also be a legal requirement. Allowing a subcontractor who is not adequately qualified or that has lapsed qualifications is a huge risk to your business and your clients. Licenses and qualifications expire and need to be monitored to be confident they meet their requirements.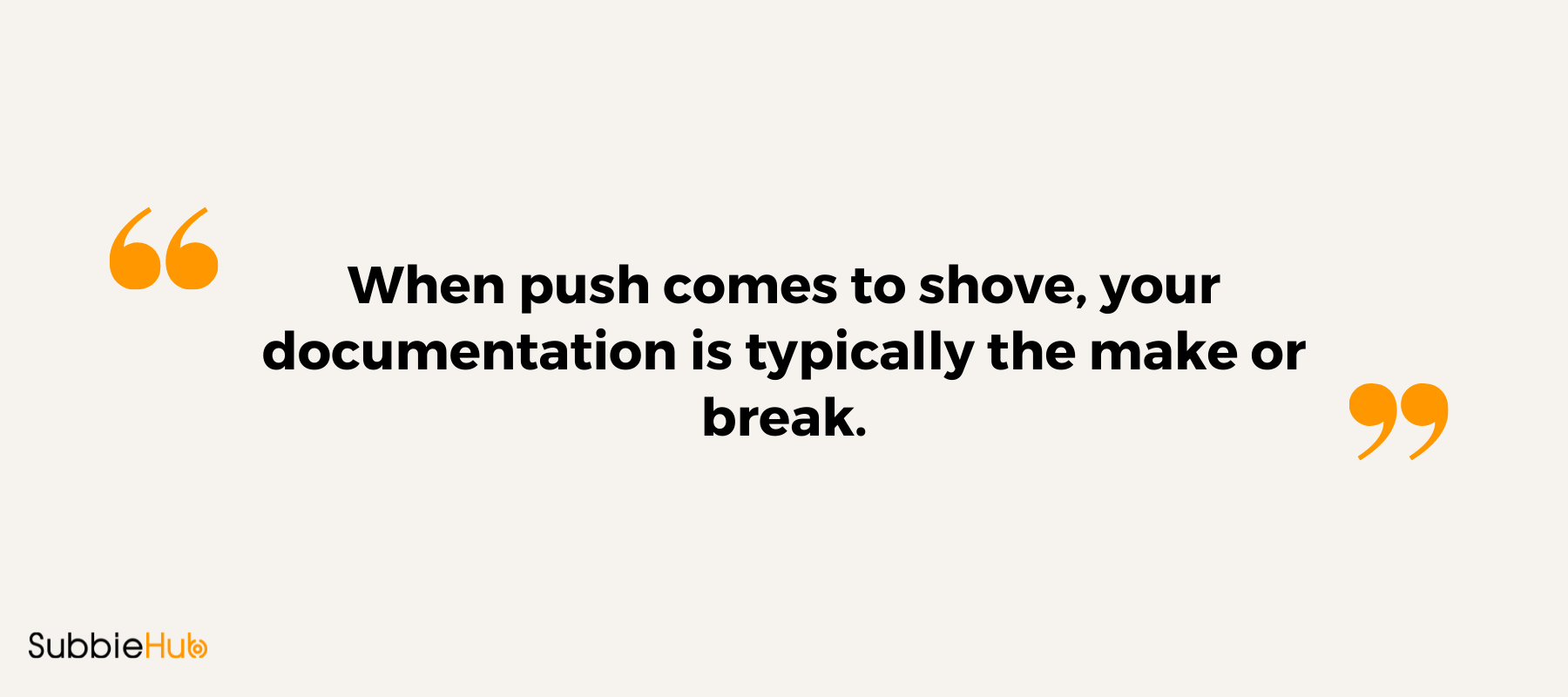 Right to work e.g. VISA, police checks, working with children.
Depending on your industry it may be important to check that the subcontractor has the right to work as a contractor in Australia. While their ABN is the most significant factor for a contractor to run a business in Australia it may also be necessary to get copies of their Visa conditions to stay within the law. Running background and police checks is a regular occurrence in industries where personal safety is paramount.
When you sign a contract with a subcontractor spelling out the terms and conditions of the agreement, it may be worthwhile to check if the contractor has terms and conditions of their own. In some cases where a subcontractor provides their T&C's attached to a quote or invoice, they can have a bearing on the engagement. Watch out for any inconsistencies and make sure they are dealt with in writing prior to work commencing.
Safety documents e.g. SWMS, Site assessments & inductions
Safety documentation is another non-negotiable step to ensuring you are meeting your compliance requirements. Whether the subcontractor is working from home or working on a commercial construction site, there are important safety steps you need to address. Typical documentation includes Safe Work Method Statements (SWMS), location specific Site Assessments, General and site specific inductions as well as ongoing Tool Box Talks all contribute to a safe working environment. The checks and balances in a safe working environment are constant and need to be regularly addressed and updated.
The subcontractors invoice is the most obvious piece of payment documentation that you will need to collect. Once again, you need to scrutinise even an invoice to ensure that it meets minimum standards e.g. is the ABN supplied valid and current? You may also be required to or at least benefit from also collecting quotes, details of any negotiations and in NSW a subcontractor statement supplied with each invoice.
The main takeaway here is to thoroughly examine what documentation you need for any work you are hiring a subcontractor to complete. Understand that each piece of documentation is important for different reasons and any gaps in your paperwork may expose your business to unnecessary risks. If you would like more information on best practices for collecting all this documentation you can read on here.